May 25, 2018 | Leslie Hallman
Perfect Grilled Chicken Legs & Corn on the Cob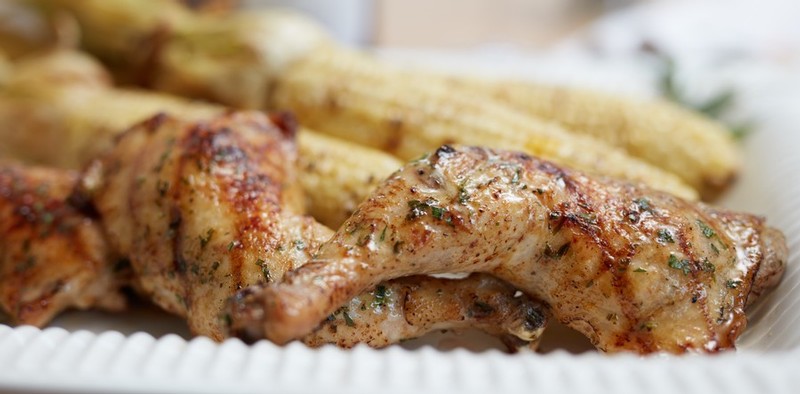 Chicken Ingredients
4 chicken legs/thighs
Marinade
1 teaspoon sugar
1 teaspoon seasoning salt
1 teaspoon paprika
1 teaspoon pepper
1 teaspoon garlic powder
1 tablespoon extra-virgin olive oil
Chicken Instructions
Mix all marinade ingredients in a plastic bag and add in chicken. Marinade and chill for 4 hours. Grill chicken on an oiled grill until well browned on all sides, turning once, approximately 30 minutes. If the chicken browns too quickly, transfer to indirect grill heat if necessary. Allow to rest at least 10 minutes before serving.
Corn Ingredients
Corn on the cob
Kosher salt
Salted butter
Corn Instructions
Heat the grill to medium. Pull the outer husks down the ear to the base, stripping away the silk from each ear. Fold husks back into place and soak the ears of corn in a bowl of cold, salted water for at least 10 minutes. Remove corn from water and grill covered for 15 to 20 minutes, turning every 5 minutes, or until kernels are tender. Serve immediately with butter.