May 31, 2017 | Leslie Hallman
Food & Wine Pairing: Ahi Tuna & Avocado Sushi Rolls with Sauvignon Blanc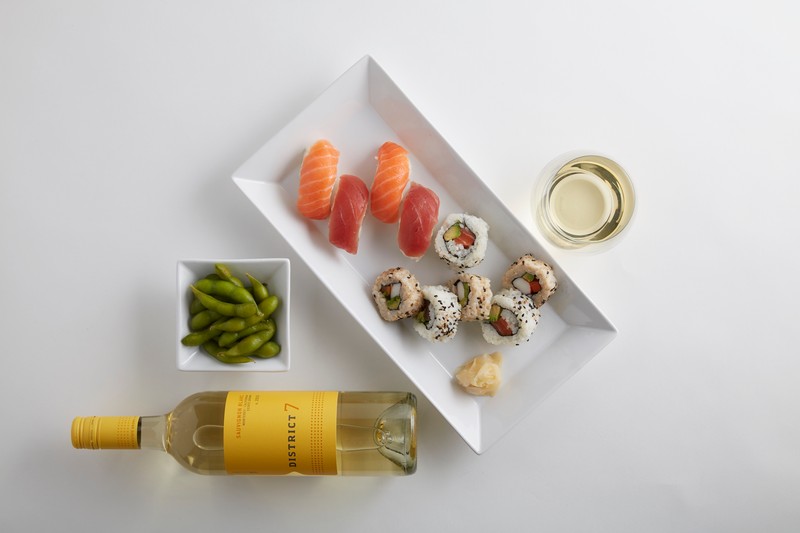 Ahi Tuna & Avocado Sushi Rolls with D7 Sauvignon Blanc
Yield: 8 rolls
Total Time: 1 hour
Ingredients
8 ounces sustainably-sourced sushi-grade ahi tuna, sliced into ¾ inch strips
8 sheets toasted nori (seaweed)
4 cups prepared sushi rice (ingredients & instructions below)
1 medium avocado, thinly sliced
2 tablespoons sesame seeds, toasted
2 tablespoons black sesame seeds
Bamboo sushi mat, covered with plastic wrap to avoid sticking
Reduced-sodium soy sauce, prepared wasabi, and pickled ginger slices, optional
Sushi Rice:
2 cups uncooked short-grain sushi rice
3 cups water
¼ cup rice vinegar
2 tablespoons white sugar
1 teaspoon sea salt
Instructions
Place a sheet of nori in the center of the sushi mat. Wet your hands and evenly spread ½ cup prepared sushi rice (see below) over the nori in a thin layer. Carefully flip the sheet rice side down. Arrange 1 ounce tuna and several slices of avocado neatly in a line down the center of the nori. Lift the end of the mat and gently roll, pushing the filling slightly in with your fingertips until the roll is formed. Repeat with remaining ingredients. Sprinkle each roll with sesame seeds. Cut rolls into 1-inch slices with a sharp, wet knife. Serve sushi immediately with a chilled glass of D7 Sauvignon Blanc.

Sushi Rice:
Rinse the rice in a strainer until the water runs clear, and combine with water in a medium saucepan. Bring to a boil uncovered. Once boiling, reduce the heat to low and cover, cooking for 15 minutes. Rice should be tender and all water absorbed. In a small microwaveable bowl combine the rice vinegar, sugar and salt, heating for 30 seconds or until sugar is dissolved. Stir mixture into the cooked rice. Allow rice to reach room temperature before making sushi.

Commenting has been turned off.