February 10, 2017 | Food & Wine Pairings | Tara Reprogle
Food & Wine Pairing: Valentine's Day Filet Mignon with District 7 Cabernet Sauvignon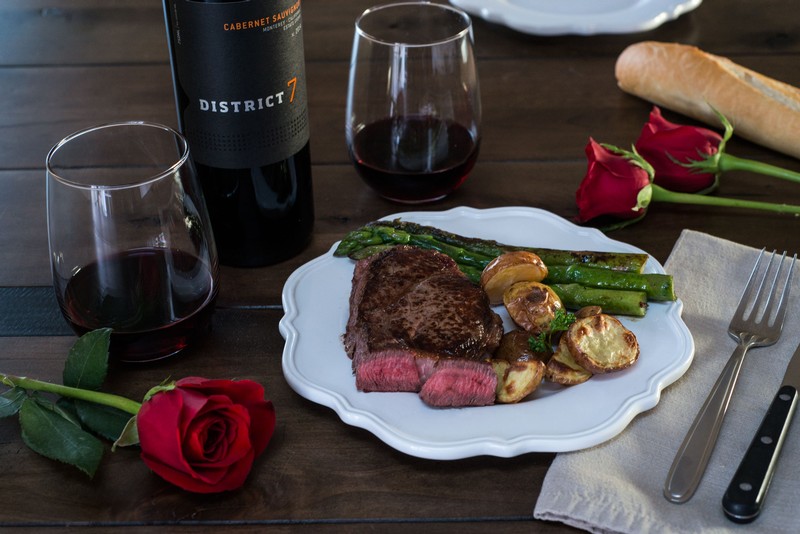 Valentine's Day Filet Mignon with District 7 Cabernet Sauvignon
Total Time: 30 mins
Serves: 2
INGREDIENTS
Two 8-ounce filet mignon steaks
½ pound fingerling potatoes, rinsed and trimmed
1 small bunch asparagus
1 tablespoon unsalted butter
¼ cup chicken stock
Olive oil
Salt
Pepper
INSTRUCTIONS
Preheat oven to 425° F. Line baking sheet with aluminum foil, spread rinsed and trimmed fingerling potatoes in one layer; drizzle with olive oil then season with salt and pepper. Roast for 30 - 45 minutes, until potatoes are golden brown. While potatoes are roasting, rinse and trim tough ends of asparagus; set aside. Season steaks on all sides with salt and pepper to taste. Heat a cast iron skillet medium high heat until pan is very hot, then add two tablespoons olive oil. Add steaks to pan and allow to cook undisturbed for 4 minutes (set timer). Turn and cook another 4 minutes for medium-rare (internal temperature of 135° F), 6 minutes for medium (140° F) or 9 minutes for medium-well (150° F). Remove steaks from pan and cover with foil. While steaks are resting, add one tablespoon butter and ¼ cup chicken stock to steak pan, keeping flame on medium high. Add asparagus, season with salt and pepper to taste and cook for 4 – 7 minutes, depending upon diameter of asparagus, until bright green and tender. Serve potatoes, asparagus and steak immediately.
If you love this recipe, we'd love to see your photos! Find us on Facebook or Instagram and show us your culinary prowess!

Commenting has been turned off.