March 7, 2017 | Food & Wine Pairings | Tara Reprogle
Food & Wine Pairing: Chicken Piccata and Chardonnay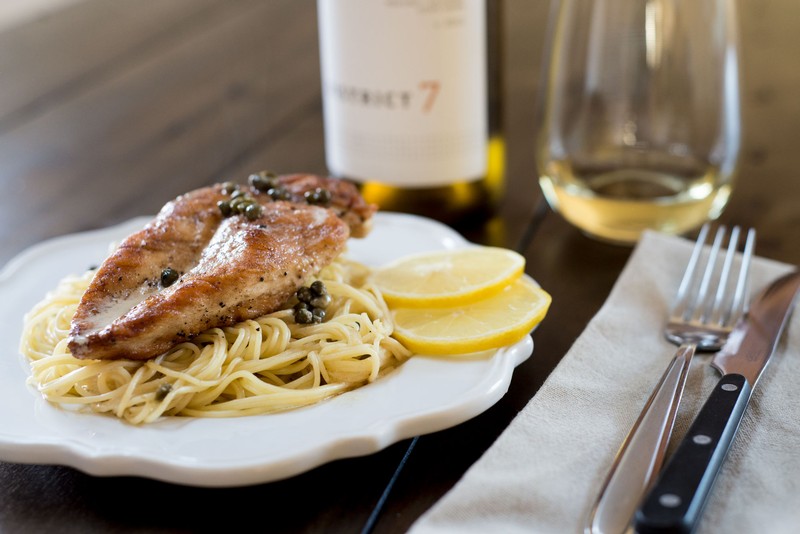 Chicken Piccata with District 7 Chardonnay
Serves: Four
Ingredients
4 whole boneless, skinless chicken breasts
salt and pepper
½ cup flour
2 Tablespoons butter
2 Tablespoons olive oil
1 cup chicken broth
2 whole lemons
1 cup heavy cream
½ cup capers
1 pound angel hair pasta
Instructions
In a large pot of boiling, salted water, cook pasta according to package instructions; drain well. In the meantime, heat 2 tablespoons butter and 2 tablespoons olive oil in a large skillet over medium high heat. Season each side of the chicken breasts with salt and pepper and dredge in the flour. Working in batches, place the chicken breasts in the hot skillet and cook for about 3 - 4 minutes on each side, or until nicely crispy and no longer pink inside. Ensure breasts do not touch and that there is sufficient room in the pan. When done, remove from skillet and set aside on a plate.
Turn the heat to medium. Add chicken broth, lemon juice, heavy cream, and capers. Bring the sauce to a boil, stirring occasionally, then reduce heat to low and continue cooking until slightly reduced, about 4 minutes. Season to taste with salt and pepper.
To serve, place pasta on plate, set chicken on pasta, spoon the sauce over both then sprinkle chopped parsley on top.