June 3, 2016 | Food & Wine Pairings | Tara Reprogle
Food & Wine Pairing: 2013 Pinot Noir with Baked Salmon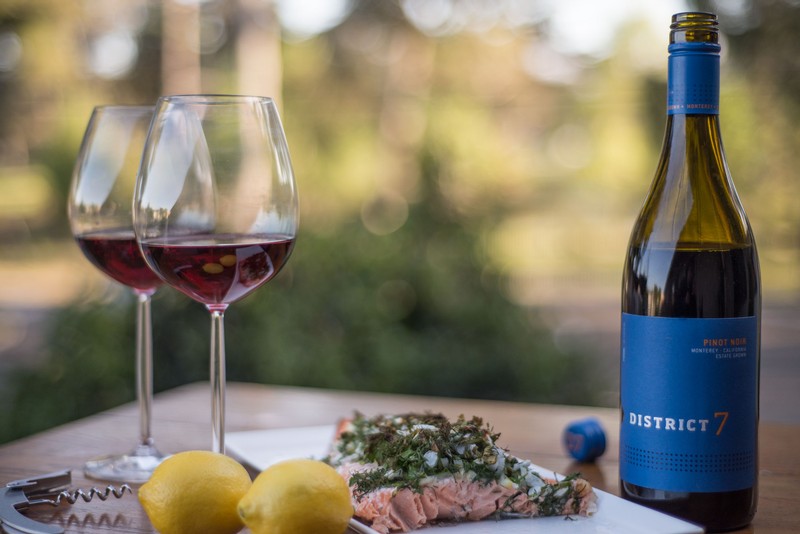 Serves 6
This recipe is one of those dress-me-up-or-dress-me-down types of meals. Need to impress the in-laws? Serve alongside pasta! Want a quick and wholesome dinner after work? Make a salad with a light vinaigrette while the salmon bakes and in a few minutes you'll have a tasty, healthy dish the whole family will enjoy.
Paired perfectly with our 2013 Pinot Noir, this bright and aromatic style of Pinot Noir perfectly matches fish dishes such as salmon.
Ingredients
1 large salmon filet, 2 lbs. (skin on)
1 large shallot, finely chopped
3 tablespoons chopped fresh parsley
5 tablespoons chopped fresh cilantro
2 tablespoons chopped fresh dill
1 lemon, cut in half
3 tablespoons olive oil
Sea salt (or Kosher salt)
Freshly ground black pepper
Instructions
Preheat oven to 400° and generously grease a glass baking dish with olive oil. Place salmon filets skin-side down on the foil and sprinkle with salt and pepper. In a separate bowl, mix the shallot, herbs, olive oil and juice from half the lemon. Thinly slice the other half of the lemon into rounds. Place on salmon in a row across the top. Gently spoon the herb mixture on top of lemon and pat to cover filet evenly. Bake for 10 - 11 min or just until the salmon is cooked (you can check by inserting the tip of a small knife into the center). Serve and watch the compliments roll in.
If you loved this recipe, we'd love to see your photos! Find us on Facebook and show us your culinary prowess!