June 1, 2018 |
Tara Reprogle

Now in its 30th year, the Program Has Donated More Than $320,000 to Students in Monterey's Salinas Valley
SALINAS, California – May 29, 2018 – Scheid Family Wines is proud to announce the winners of the 2018 Scheid Writing Contest. Now celebrating its 30th anniversary in Monterey's Salinas Valley, the program has donated more than $320,000 to scholarships for local high school students.
The Scheid Writing Contest was originally created by Al Scheid in 1984 for his high school alma mater, Bridgeport High School in Bridgeport, Ohio. He launched the contest as a way to give back to the community and provide assistance to motivated high school students who wanted to attend college. Four years later, convinced that the local schools in the Salinas Valley could benefit from the contest, Al brought it to King City High School. Greenfield High School—built on land that was formerly vineyards owned by Scheid—was added to the program in 2001.
Al has always believed that being able to communicate ideas effectively is the key to success. He created the writing contest to give students the opportunity to fully delve into a subject. Each year, the winners are chosen based on their ability to research and write a 3-5 page essay on a given topic. Separate scholarships are awarded for each grade level. Past topics have included Guantánamo Bay and interrogation techniques, the Ground Zero mosque, the impact of social media on society, the death penalty, immigration reform, global warming, the USA Patriot Act and its effect on an individual's right to privacy, the use of military tribunals in terrorist cases, and the pros and cons of the Electoral College.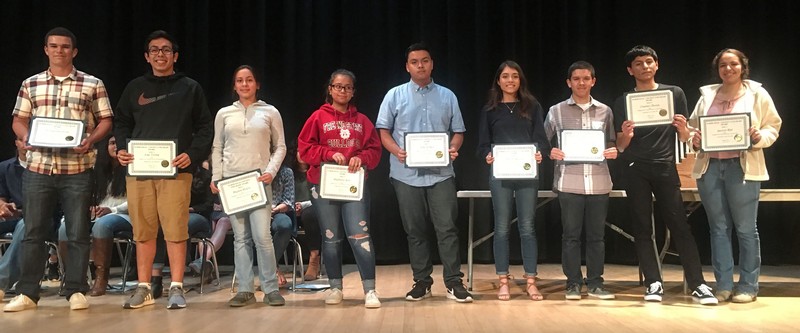 The topic for 2018 was the National Anthem.
On August 26, 2016, the debate over kneeling or sitting in protest during the national anthem was sparked by San Francisco 49ers quarterback Colin Kaepernick when he first chose not to stand during "The Star-Spangled Banner." Throughout the past two football seasons, some NFL players have also chosen to "take a knee" rather than stand during the anthem.
What positive effects have their actions had on our view of what is patriotic? What negative effects have their actions had? Do you agree or disagree with an athlete who chooses to not stand during the anthem? Do you feel that protesting during the national anthem is an appropriate time to protest? Why or why not? What actions do you think someone should, or should not, do during the singing of the national anthem?
The senior-class winners from Greenfield High School were: Veronica Gasca (1st), Alize Ortiz (2nd), Rosa Sanchez (3rd), and Nicolette Shaheen (4th).
The senior winners from King City High School were: Thomas Stephens (1st), Jose Torres (2nd), Lauren Rist (3rd), and Cristian Chavez (4th). Other winners included: Samuel Rivera (11th grade), Karina Aguirre (11th grade), Jose Gomez (11th grade), Dominic Conricode (10th grade), Felipe Cruz (10th grade), Stephanie Soto (10th grade), and Dayana Rivera (9th grade).
The total awards distributed were $8,950 for each school.
About Scheid Family Wines
Scheid Family Wines has farmed wine grapes in Monterey County, California since 1972. With 4,000 acres of sustainably-certified vineyards located along a 70-mile spread of the Salinas Valley and a state-of-the-art winery, Scheid Family Wines is fully-integrated to bring high quality estate grown wines to the marketplace. The Scheid Family Wines nationally-distributed portfolio includes Scheid Vineyards, District 7, Metz Road, VDR, Stokes' Ghost, GIFFT, Ranch 32 and Ryder Estate. In addition, Scheid Family Wines produces over 20 regionally distributed brands for specific clients or distributors.